#Competition
Online Debate Competition
LedX
Online Debate Competition
LedX Debate Competition is being organized to engage the debating community and provide them with an opportunity to deploy rational, reasoned, and compelling arguments and engages in academic debate. The competition will enable students to elucidate their standpoint through rhetorical eloquence. It instills in debaters a great sense of poise and confidence. It teaches them the skills of researching, organizing, and compellingly presenting the information.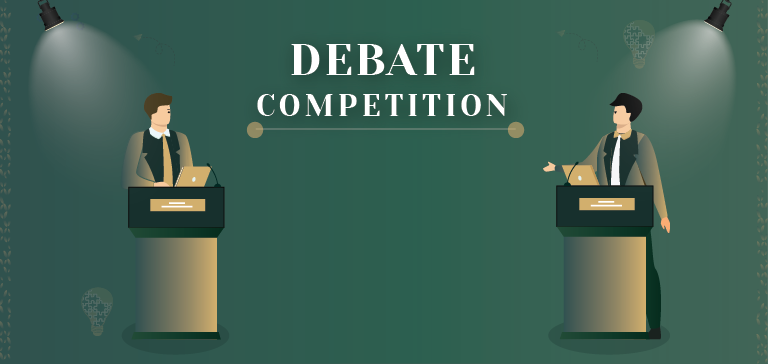 "Minimum education qualification should be made mandatory to contest elections in India"
"भारत में चुनाव लड़ने के लिए न्यूनतम शैक्षणिक योग्यता अनिवार्य की जानी चाहिए "
Candidates need to be enrolled in a graduate/post-graduate professional program or in school (11th to 12th standard) to be eligible for participation.
The debate shall be conducted virtually; the technology platform will be informed via mail after the registration process. The format of the debate is the conventional 1-1 debate; participants will either argue for the motion or against it. Each participant will be given 3+1 minutes to speak. There will be a warning bell after 3 minutes, which will signify that you must start concluding. After 4 minutes, there will be a final bell that will be the time to stop. Exceeding the time limit will lead to the deduction of marks. Participants can choose the medium for the debate as English or Hindi. Switching the chosen language is strictly prohibited.
Participants need to submit the online registration form and the registration fees of Rs 299/individual through the prescribed mode. The confirmation for the same needs to be retained. Participants are requested to register for the debate through the link.
Special Mention: Most Popular OP-Speaker
The interested registered participants can send a video of their debate argument for a minute. The video will be posted on our Instagram account and the one to get the most number of comments will be awarded Rs.5,100/- for the most popular debater. The deadline for the same will be 13th October. 2021, the result for the same will be announced during the prize distribution ceremony.
The top 3 winners from both For and Against will receive a cash prize of Rs 5100, Rs 3100, and Rs 2100 each respectively, along with the merit certificates. The top 5 participants will be awarded the consolation cash prize of Rs 500 and merit certificates. All the participants will be provided with an E- Certificates of participation. E-Certificates shall be sent to the winners and participants on their registered participation email ids. Special mention cash prize of Rs.5,100.